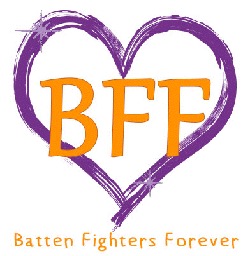 Batten Fighters Forever is a cause for Annabelle and Robbie's fight against Juvenile Batten Disease (CLN3). Both are on a journey towards premature death.
Juvenile Batten Disease is one form of rare inherited disorders affecting the nervous system. Beginning in childhood, it causes rapid vision loss, seizures, thinking difficulties, loss of speech, loss of movement and premature death.
Annabelle was diagnosed with CLN3 at age 11 having already suffered in recent years the complete loss of her vision. She has since lost some mobility, suffers with dementia and experiences occasional seizures.
Robbie was diagnosed when he was just 4 years old. His eyesight has started to deteriorate and he has some memory and learning difficulties. Otherwise he's fit, healthy, mad keen on cars and loves playing soccer. He's the most beautiful little boy, gives the best hugs and has the biggest heart of any person we know – he simply doesn't deserve what Batten's Disease will do to him.
Our family quest is to give them the best possible life, to focus on fund raising and support of research in medicines that can help them and other children facing this disease. Annabelle chose the name "Batten Fighters Forever" because it's abbreviation is BFF which also stands for 'Best Friends Forever". This very much captures her brave spirit and the need for us to stick together in the fight ahead.
Robbie knows that he will "be like Annabelle" in the future but is not yet old enough to fully understand his diagnosis or the challenges he will face. That time will come but for now he is better enjoying his childhood before symptoms emerge.